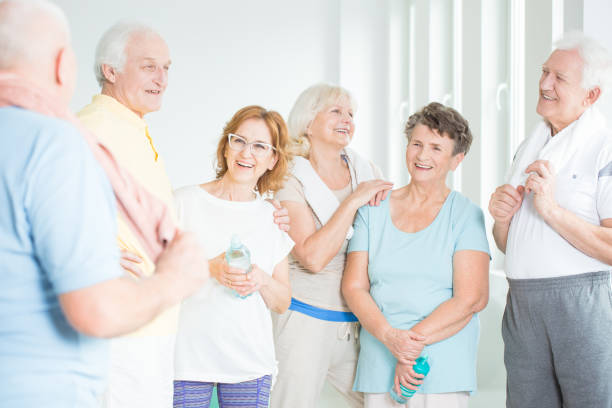 We all know staying active is essential to maintaining our health and wellbeing. But getting older can pose a little more of a challenge when it comes to your balance and gait. Those over the age of 65 may be wondering 'how much activity is enough?'
In short, there's no one-size-fits-all answer. But there are certain types of exercise you can do in your senior years that can help you maintain control over your body and prolong your independence. If the correct form is used—strength, gait, balance and quality of life can all be improved with regular physical activity.
If you suffer from arthritis, it's essential you avoid any activity that could exacerbate the disease's progression. Sufferers will need to take extra precautions to avoid the degradation of joints or ligaments that can often be attributed to high-impact activity.
Here's how you can reap the benefits of exercise in those golden years:
It's never too late to start exercising
"Good news for all those who've spent their lives assigned to the couch."
For all you late bloomers out there who've given up on the idea of getting into shape—this piece of advice is for you. Sure. You'll need to pay extra attention to your technique and range-of-motion as you get older. But you can ask your physiotherapist about any physical limitations you may have and how to ease into a routine. Your physio will be able to prescribe the right type of exercise to help you maintain a healthy weight, improve function and prevent injury—all at the same time.
What's more, studies have shown the amazing health benefits of exercise can be enjoyed among all ages, in spite of your former habits. Those who begin their fitness journey later in life will still enjoy the benefits of exercise, including a lowered risk of early death, type 2 diabetes and fall incidence. [1] Good news for those who've spent their lives assigned to the couch.
Supervised group core strengthening exercises
"It doesn't matter how bendy your are or how aerobically-endurant."
One modality that's risen to popularity in recent years (and for good reason) is Pilates. This low impact exercise offers a structured form of physical activity that has been shown to improve one's physical fitness in a much safer manner. Its effect on mood state, quality-of-life and independence in the activities of daily living is significant. [2] And the benefits become even more apparent in the context of a physiotherapy-guided Pilates.
Clinical therapeutic exercise and physiotherapy-guided group exercise is a fantastic introduction to exercise for seniors. It's also effective in the management and onset of osteoporosis. There's no need to feel intimidated by these types of classes, as programs are tailored to the individual. When it comes to Pilates, you can begin your practice on a level playing field.
Supervision ensures the utmost safety, and all manner fitness levels are welcomed. It doesn't matter how bendy your are or how aerobically-endurant. The key to benefitting from Pilates is to integrate your body and mind with the right breathing, control, concentration, precision, fluidity and centralisation. [3] More importantly, your physiotherapist will have a great understanding of the human body and the problems that arise from acute or chronic conditions.
Clinical Therapeutic Exercise
At Bangalow Physiotherapy, we offer several clinical therapeutic exercise programs that offer whole body work-outs using clinical therapeutic exercise, strength and conditioning principles—either one-on-one or in a small group environment. The supervision of our highly-qualified physiotherapists offers a personalised regime that's safe for all ages, fitness levels and people with certain injuries. See our timetable for classes and more information.
References
1.Saint-Maurice PF, Coughlan D, Kelly SP, et al. Association of Leisure-Time Physical Activity Across the Adult Life Course With All-Cause and Cause-Specific Mortality. JAMA Netw Open. 2019;2(3):e190355. doi:10.1001/jamanetworkopen.2019.0355
2. Bullo, V., Bergamin, M., Gobbo, S., Sieverdes, J.C., Zaccaria, M., Neunhaeuserer, D. and Ermolao, A., 2015. The effects of Pilates exercise training on physical fitness and wellbeing in the elderly: a systematic review for future exercise prescription. Preventive medicine, 75, pp. 1-11.
3. Costa, L.M.R.D., Schulz, A., Haas, A.N. and Loss, J., 2016. The effects of Pilates on the elderly: an integrative review. Revista brasileira de geriatria e gerontologia, 19(4), pp. 695-702.