Clinical Pilates & Physio Group Therapy
Pilates is an exercise program which will give you strength, flexibility and stability all at the same time.
Physio Group Therapy Sessions
We offer several physio guided group exercise sessions each week where you are able to to get a whole body work-out using clinical pilates base and strength and conditioning principals in a small group environment. After having a full assessment with one of our physiotherapists we gain a solid understanding of your body's condition (acute or chronic injuries), your fitness level, postural control and work situation (whether a manual or desk worker), after which we can tailor exercises specific to your needs.
Clinical Pilates Background
Pilates was created by Joseph Pilates in New York and used almost exclusively by dancers at first. It is now used universally, with and without equipment. Clinical Pilates has since evolved where physiotherapists use the Pilates principals to emphasise core stability and correction of movement patterns.
Our Physio guided classes are suitable for anyone who wishes to have positive results by becoming fitter, stronger and more flexible, with better posture and a healthier lifestyle. It is safe for beginners, and effective for elite athletes and people with sports injuries. Neck and back pain sufferers find relief. The aged gain strength, balance and confidence. Pilates is effective for osteoporosis, both in prevention and control. Used in rehabilitation and post surgery, Pilates will help you regain movement and strength. It is suitable during pregnancy. It helps those in chronic pain. Pilates has also been shown to aid mental health by helping those suffering from stress, anxiety, depression,  weight and eating disorders.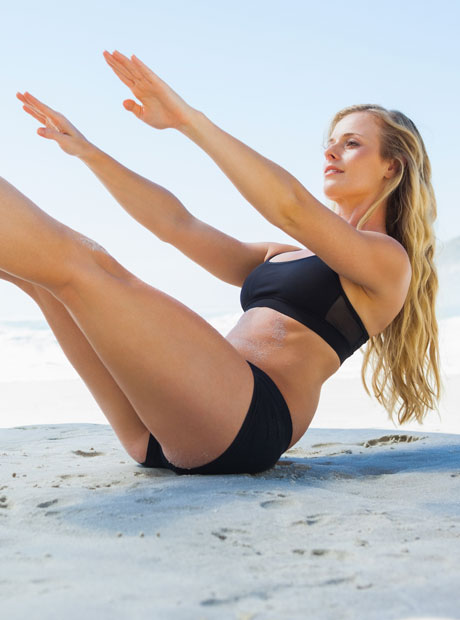 Pilates is effective in improving overall health, physical and mental. It does this by strengthening, stretching and toning muscles. It also has general effects in creating a feeling of well being, improving balance, cardiovascular fitness and improving concentration and sleep patterns. It uses the Pilates principles of promoting: relaxation, correct breathing, body control, movement patterning, correct alignment, improving co-ordination, centering, strength and stamina.
Our physiotherapists will help you develop a personalised regime, which will address your particular needs and/or problem areas. Individual sessions will involve the use of various Pilates and other exercise equipment. Individual sessions are available by appointment from Monday to Friday.
Exercise regimes get the best results when some is done almost every day, and attending a series of our Physio guided group classes will encourage you to establish a home regime and enable the benefits to truly be felt. The focus in classes is on mat work – learning exercises that you can carry on at home with. Beginners attending 2-3 sessions a week have the ability to improve quickly and gain an understanding of the principles of this practice, under the supervision of our physiotherapists who have a great understanding of the human body and the problems that arise from acute or chronic conditions.
Pilates Timetable (Mats)
Pilates is effective in improving overall health, physical and mental.
C = Cally   K = Kim   CT = Courtney
MON
TUE
WED
THU
FRI
SAT
7am
General
K
7am
General
CT
8am
General
K
7:45am
General
C
7:45am
General
C
9am
General
C
9am
General
C
9am
General
K
9am
General
CT
10am
General
K
10am
General
C
10am
General
C
10am
Beginner
K
12:00pm
Gentle
C
4pm
General
C
5pm
General
K
5pm
General
CT
5pm
General
C
6pm
General
K
6pm
General
CT
6pm
General
C
7pm
General
K
Pilates Timetable (Reformer)
C = Cally   K = Kim   CT = Courtney
MON
TUE
WED
THU
FRI
SAT
7am
Reformer
K
8:30am
Reformer
K
8am
Reformer
K
8:30am
Reformer
K
 8:30am
Reformer
K
 9:00am
Reformer
K
9:30am
Reformer
K
9:30am
Reformer
K
9:30am
Reformer
K
10:30am
Reformer
K
10:30am
Reformer
K
2pm
Reformer
K
4pm
Reformer
K
5:30pm
Reformer
K
5:30pm
Reformer
K
6:30pm
Reformer
K
Physio Group Therapy Classes
Group Mat Classes – maximum of 6 participants
Pre-paid block of 5 weeks – $120 ($24 per class)
Casual Classes – $28/ class
Group Reformer Pilates Classes – maximum of 4 participants
Pre-paid block of 5 weeks – $140 ( $28 per class)
Casual Classes – $32/ class
Private Pilates Classes of either mat or reformer
Private 1 on 1 – $120 per hour
Private 1 on 1 – $95 for 45 minutes
Casual attendances are possible if a space is available and you have already undertaken a pre-assessment with a physiotherapist. You will be required to call on the day of the class to ascertain if there is availability.
Pre-requisite for class is a physiotherapy assessment. Your Health Fund may offer you a rebate through our HICAPS machine at reception.
General Pilates classes
Non-clinical Pilates fees are $26 and can be paid over the term.

Individual Sessions
Are either an hour (extended) or half an hour (standard). The fees are aligned with the practice fees, and may be claimed through your private health fund. The first session will attract an initial consultation fee. Individual sessions can be shared into groups of 2 or 3 persons, where the costs similarly can also be shared.
A combination of mat work and work with equipment is the most effective in sustaining long-term beneficial health gains. Please contact us for further details.
Exercise / Pilates Equipment
For you convenience we carry a range of equipment for you to continue your exercise schedule at home. Mats, rollers, fit balls, weights, Theraband, reflex balls, wobble boards, massage balls, stretch bands, pilates circles.
For all new pilates attendees, it is required that you have a 30min pilates assessment before starting a pilates course. The fee is $79 and is claimable via HICAPS.
The pilates classes consist of 5 weeks in a block. If you are unable to commit to a pilates course of 5 weeks, you may opt to be a casual attendee which is $28 per class or ($40 for Reformer classes).
You will need to phone in either on the day or day before to see if there is a space available in the class desired. We are unable to take casual bookings in advance.
Please make your block payment at time of booking to reserve your place in class, either in person, by phone or by Direct Deposit. Receptionist available between 9am and 5pm.
Pilates and your private health fund. Check with your fund regarding your level of cover and any requirements. A receipt will be printed out for you at the end of each block in order for you to make your claim.
If you are unable to attend any of the classes that you have booked into, please let us know ASAP to allow for someone else to attend. We will accommodate your needs as best we can, by arranging a make-up class for you, which must be taken within the 5 week block. We are unable to guarantee 100% a make-up class, but we will assist where available.
The maximum attendees allowed in each class is six people.
If you have a group of friends, and you would like to start a class that is not on the timetable, please let us know.
If you are unable to continue on in any of the following blocks,please advise ASAP before the block starts. At your request we are able to reserve your spot in class for a maximum of 2 blocks only.