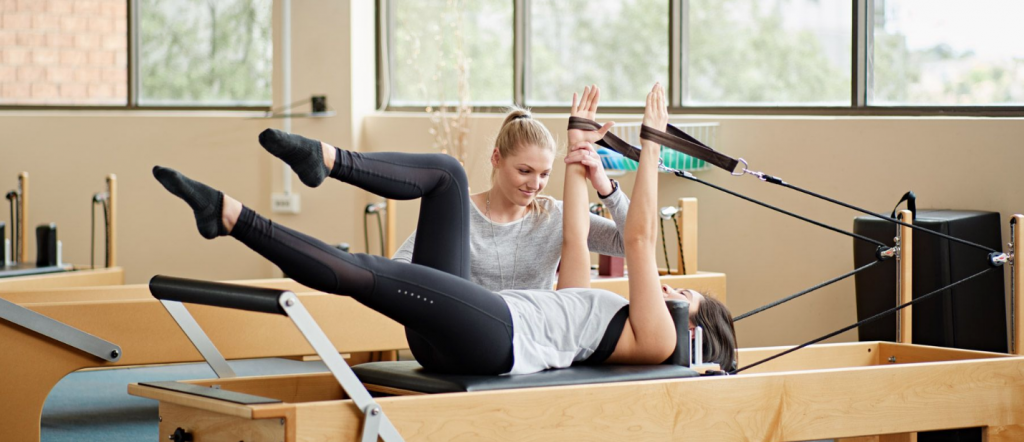 What is Clinical Therapeutic Exercise (CTE):
Essentially a set of tailored physical movements, Clinical Therapeutic Exercise is designed to improve your musculoskeletal function and establish an optimal state of well-being. Combining pilates and yoga with health and exercise science, the exercises vary from localised movements targeting specific muscles and limbs to those which engage the entire body. Used to return the convalescent back to peak physical condition and a healthy equilibrium, regular clinical therapeutic exercise can improve both physical and mental health.
Our Classes:
At Bangalow Physiotherapy, we offer two main types of CTE classes: mat and reformer. Mat classes offer lighter resistance than reformer classes however, less resistance doesn't necessarily mean the exercises are less difficult.  We incorporate body weight exercises into all our mat classes to help you the form long, lean and toned muscles that are essential to improving posture, balance and core strength. The reason reformer classes tend to be more comprehensive than mat classes is because using a reformer bed unlocks  a greater variety of exercises that can be carried out from multiple different body positions.  This really helps target the smaller muscle groups that can be otherwise difficult to engage.
Individual sessions:
During our private individuals our physiotherapists will help you to develop a personalised regime, addressing your particular needs and/or problem areas. Available by appointment from Monday to Friday, individual sessions will involve the use of various Pilates and other exercise equipment.
Group classes:
Attending our Physio guided group classes is a great way to establish healthy fitness regime. We have purposefully kept our classes small, limiting our classes to six people at at a time. This creates a safe and supportive environment and enable our teachers to devote more time to each person in the class, ensuring they get the very best guidance and personal assistance. With such personalised tutelage, beginners attending 2-3 sessions are able improve quickly, gaining an insightful understanding of  their practice and limitations. See our timetable for class times.
Getting Started:
No matter your age or fitness level, our instructors and therapists are able to tailor the exercises to suit  your personal needs. At bangalow Physiotherapy, our Clinical Therapeutic Exercise classes are carried out in 5 weeks blocks. For all new Clinical Therapeutic Exercise attendees, it is required that you have a 30min Clinical Therapeutic Exercise assessment before starting a course which you can book here. If you are unable to commit to a Clinical Therapeutic Exercise course of 5 weeks, you may opt to be a casual attendee. Whether you partake in one of our group or private classes, you will be under the careful supervision of our highly-qualified therapists who will tailor you a regime that suits your age, fitness level and injuries.
Health Fund Rebates:
Different to pilates, it is possible to claim rebates from your health fund for Clinical Therapeutic Exercise. We suggest you check with your fund regarding your level of cover and any requirements. A receipt will be printed out for you at the end of each block in order for you to make your claim.