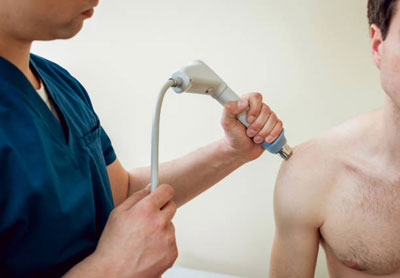 What is it?
You may have heard of the new machine we have in our clinic and are wondering what it is. It is a Shockwave Machine. There are two types of Shockwave, there is radial shockwave (RSW) which we have and there is focused shock wave (FSW). Radial Shockwave is ballistically generated by compressed air. Radial Shockwave is a broad wave that can penetrate up to 5-6 cm in depth where as focused shockwave has a deeper penetration up to 12 cm. In physiotherapy radial shockwave is utilised to treat the more superficial tendons.
Shockwave is like a pressure wave and is sometimes termed an acoustic stimulator which creates biological effects.
The biological effects of shockwave are:
Shockwave induces proliferation, migration and differentiation of stem cells, which significantly contribute to tissue healing and regeneration.
Shockwaves promote tenocyte proliferation and progressive tendon tissue regeneration and induce biomechanical responses that promote tendon remodelling in tendinopathies.
Bone cells are also sensitive to mechanotransduction.

 

Shockwave enhances osteoregeneration.

 

It can acts on the bony and periosteal cells and aids in the building of bone interacting with osteoblasts and osteoclasts.

 

It assists in neovascularization and matrix remodelling.
Shockwave has been shown to be a immunomodulator in wound healing and tissue regeneration mainly through anti-inflammatory strategies.
Shockwave is also considered to be analgesic (pain relieving) due to the interference to the nervous system.
Shockwave is not utilised with acute injuries but rather with chronic conditions that require assistance in stimulating healing.

 

It is therefore not utilised until after 6-8 weeks of an injury.
It has been found to be beneficial in the treatment of chronic:
Achilles Tendinopathy
Planter Fasciitis
Proximal Hamstring Tendinopathy
Patellar Tendinopathy
Adolescent Osgood Schlatters Disease
Carpal Tunnel Syndrome
Calcific Tendinopathy of the Shoulder
Coccydynia
Lateral Epicondyalgia
Greater Trochanteric Pain Syndrome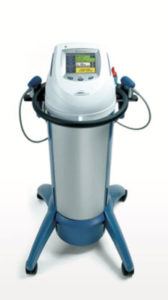 Sazena et al found a 78.38% improvement in achilles tendinopathy after radial shockwave therapy up to one year later after 3 sessions. Combining shockwave therapy with traditional loading programs for achilles tendinopathies was found to have a significantly higher success rate than loading alone at 4 months (Rompe 2009).
Chang et al compared 12 randomized control trials and compared Focus Shockwave, Radial Shockwave and placebo. Radial Shockwave had the highest effectiveness versus placebo or Focus Shockwave in reducing pain in plantar fasciitis.
Cacchio et al utilised shockwave therapy on the chronic hamstring tendon of professional athletes and found 80% of the athletes in the shockwave group where able to return to sport after 9 weeks compared with 0% of the exercise alone group returning at 9 weeks.  A greater number of participants in the shockwave group, i.e. 85 percent also reported more that a 50% reduction in pain at 3 months compared with the exercise group where only 10 % reported a 50% reduction in pain.
Patellar tendinopathy has also positively responded to radial shockwave therapy when used in combination with an eccentric training program  (Van der Worp et al). Osgood-Schlatter Disease which is found in the adolescent and associated with growth spurts also effects the patella tendon. Shockwave has also been found to be of benefit with this condition (Lohrer et al).
In 2015 it was found that shockwave therapy helped reduce symptoms of Carpal Tunnel Syndrome when used in combination with night splints. There was significantly reduced pain and improved function versus the shame treatment with night splints (Wu et al).
Shockwave has also been found to be beneficial for lateral epicondylitis (tennis elbow). Lateral Epicondylitis symptoms are reported in the lateral elbow with grip and lifting. After just one treatment of shockwave at 6 months follow up grip strength and reports of pain where found to be significantly improved (Spacca et al).
Calcific Shoulder Tendinitis has also been found to benefit from radial shockwave therapy (Cacchio et al)
Most studies recommend Shockwave as an adjunct to other physiotherapy treatments. It is generally expected that shockwave will be performed 1x per week for 3-7 treatments.
References
Aqil, A., Siddiqui, M., Solan, M., Redfern, D., Gulati, V., Cobb, J., Extracorporeal Shockwave Therapy is Effective in Treating Chronic Planterfasciitis: A Meta-analysis of RCTs.
Cacchio., A., Paoloni., M., Barile A., Don, R., De Paulis., F., Calvisi, V., Ranovolo, A., Frascarelli., M., Santill., V., Spacca., G.

 

Effectiveness of Radial Shock-wave Therapy for Calcific Tendinitis of the Shoulder:

 

Single-Blind, Randomized Clinical Study.

 

Physical Therapy 2006 May; 86(5): 672-82
Chang, K., Chen, S., Chen, W., Tu, Y., Chien, K., Comparative Effectiveness of Focused Shockwave Therapy of Different Intensity Levels and Radial Shock Wave Therapy for Treating Plantar Fasciitis: A Systematic Review and Network Meta-analysis.

 

Arch Phys Med Rehabil. 7/2012 93(7): 1259-68
Cristina d'Agostino, M., Craig, K., Tibalt, E., Respizzi, S., Shockwave as biological therapeatic tool:

 

From mechanical stimulation to recovery and healing, through mechanotransduction.

 

Int J Surg. 11/2015
Lohrer, H., Nauck, T., Scholl, J., Zwerver, J., Malliaropoulos, N., Extrocorporeal Shock Wave Therapy for Patients Suffering from Recalcitrant Osgood-Schlatter Disease.

 

Sportverletz Sportschaden.

 

2012 Dec; 26 (4): 218-22
Rompe, Furia, Muaffulli

 

Eccentric Loading versus Eccentric Loading Plus Shock-wave treatment for Midportion Achilles Tendinopathy.

 

A randomized Controlled Trial.

 

American Journal of Sports Medicine, 2009 Vol 37, No 3 P 463-471
Saxena, A., Ramdath, S., O'Halloran, P., Gerdesmeyer, L., Gollwitzer, H., Extra-corporeal pulsed-activated therapy for Achilles Tendinopathy: a prospective study.

 

J Foot Ankle Surg. 2011;50(3):315-9
Spacca, G., Necozione, S., Cacchio., A., Radial shock wave therapy for lateral epicondylitis: a prospective randomised controlled single-blind study.

 

Eura Medicophys. 2005 Mar 41(1):17-25
Vinding, J., Eaton, C., Shockwave Therapy in the Treatment of Musculoskeletal Disorders. DJO Publications 2016
Van der Worp, H., Zverver, J., Hamstra, M., Van den Akker-Scheek, I., Diercks, R.L.,

 

No difference in effectiveness between focused and radial shockwave therapy for treating patellar tendinopathy:

 

a randomized controlled trial.

 

Knee Surg Sports Traumatol Athrosc.

 

2013 May
Wu, Y., Ke M.J., Chou, Y., Chang, C., Lin, C., Li, T., Shih, F., Chen, L.,

 

Effect of radial shockwave therapy for carpal tunnel syndrome:

 

A prospective randomized double-blind, placebo-controlled trial.

 

J Orthop

 

Res. 2015 Nov