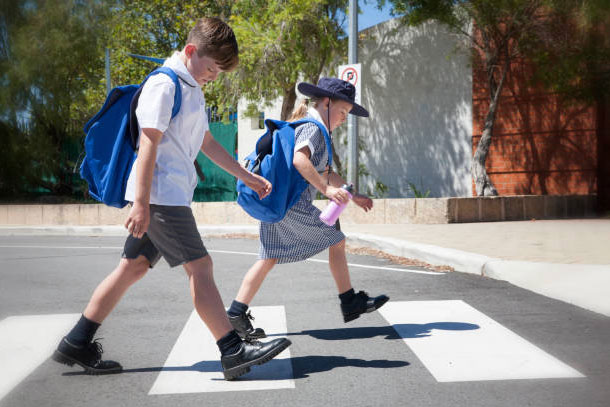 Back pack Safety: getting the right-sized bag and wearing it correctly is crucial for the growing school kid.
Establishing good posture habits from an early age is key in the prevention of acute neck and back pain & injury, as well as long-term spinal problems. Here are some key features for backpack safety:
Wide / padded shoulder straps worn firmly over the flattest part of both shoulders to avoid pressure on the nerves around the neck and armpits.
A waist and / or chest strap to help stabilise and distribute the weight to your torso and hips. This helps to avoid overloading the shoulders (kids who carry iPads or laptops, musical instruments, or extra clothing and footwear for after school sports and activities may benefit from such features).
Keep the heaviest items closest to your back.
Ensure the maximum weight of the bag doesn't exceed more than 10-15 % of your child's body weight.
Bend both knees and pick up the bag with both hands when putting on the backpack.
Never wear your back pack on 1 shoulder nor so low that it touches your bottom.
Try to only carry what you absolutely need to.
Keeping the Balance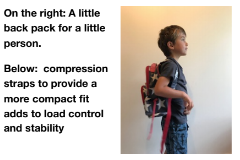 Ensuring your child wears the correct sized backpack on both of their shoulders and maintains some level of physical activity in between time spent at the computer and using iPads and other such devices, will help to maintain optimal
posture. This will in turn help to minimise the risk of neck and back ache, headaches and the development of a slumped posture. This combination of a happy, balanced mind and body optimises children's engagement, motivation, energy and learning potential. If you have any questions or queries regarding your child's posture or any aches and pains, please come and see us at Bangalow Physiotherapy. We would love to help you.
Some DON'TS for proper posture when using devices and wearing a backpack
With the growing use of screen devices such as iPads & tablets at home and in school, more children are presenting with neck & back pain and slumping postures. This can set them up for chronic pain, headaches and other postural issues later in life unless good habits are established early.
Hints to avoid "iPosture Syndrome":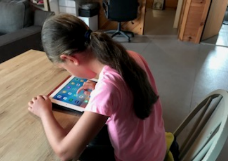 Bring the screen to your eye level. Use a stand or prop to assist.
Try to maintain an "S" shaped spine to maintain the natural curves of the neck and back. Using a cushion for support can be helpful.
Avoid tilting your head to the side.
Change position. Mix it up. Sit, stand, lie down.
Have frequent rest breaks (ideally every half hour).
Shrug your shoulders, stretch your arms and body, turn your head and take some big lunge steps to stretch your hips and legs.